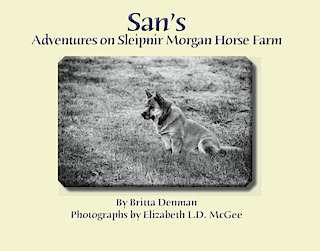 This book available now here!
Meet San, the dog.
Lots of things are unique about San. He does not look like most dogs. His legs are a bit too short for his body.  He has knock knees and he was born without eyes.
San is very special. 
People who meet San seem to fall in love with him.  Even people who do not normally like dogs usually like San.
San's favorite thing in the world is to be with his people.
His second favorite is to play with cats.
He is not mean to the cats. 
He does not try to hurt them.
He just wants to play.
Here are some photos of San looking for play time with the cats on the family farm.
Those of you who have met San:  Please write to us with your San memories.
Those of you who are inspired by San:  Please write to us and let us know about it.
Poets:  Please send us San Haiku, or other poems.
We'll assume permission to post/publish them, unless otherwise noted.
We hope that you will love San as much as we do.
Thanks,
San, his Mom and San's Family...
©2008 www.santhedog.com  San The Dog™ is a trademark of www.santhedog.com